6/28/21 5:05am Lamarck Lakes and (almost) Lamarck Col
Ready to get up. It feels a bit chilly. But it is very calm.
5:21am
On the road.
<![if !vml]>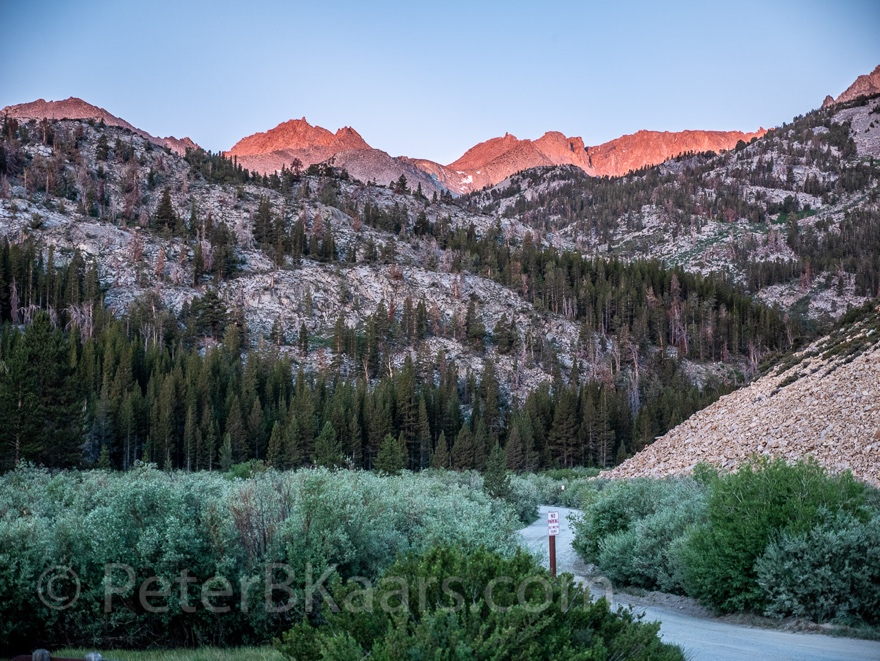 <![endif]> First light on Mt Lamarck in the distance
5:51am on the trail
Good to have a hearty warm breakfast under the belt. Or in the stomach rather.
<![if !vml]>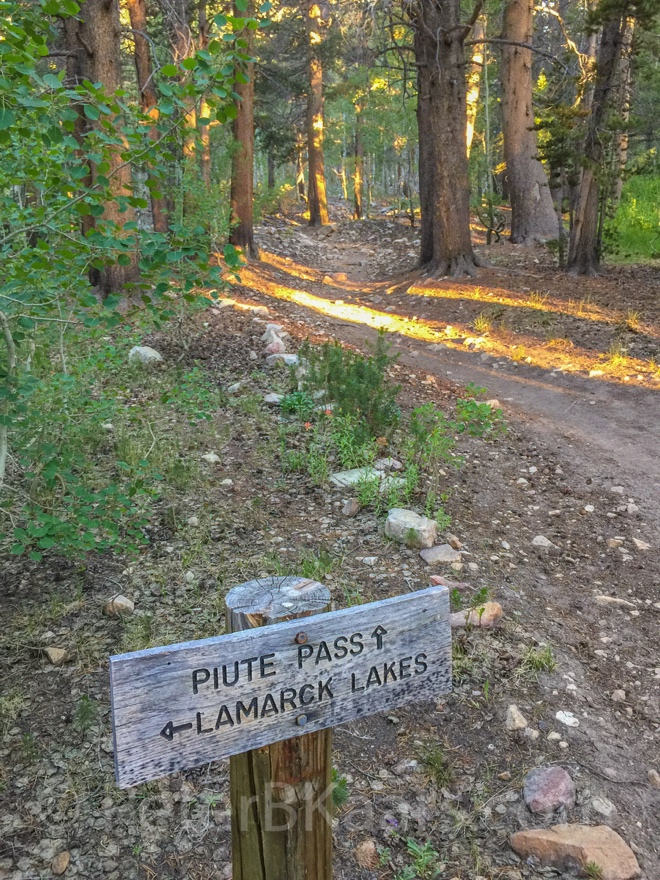 <![endif]>   <![if !vml]>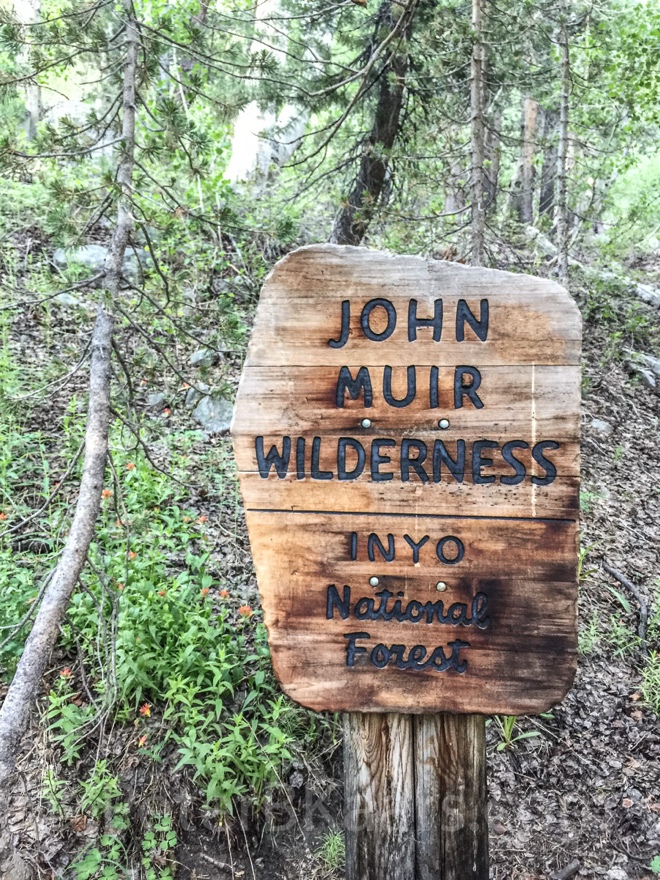 <![endif]>
6:11am
As soon as I hit the John Muir Wilderness sign the trail becomes steep up; rocky and lined with aspen.
6:29am 1.27mi day
Then levels off to a nice forest floor. Time for a breather.
A short one; soon the rocks and roots return.
Standing still equals mosquito attack.
6:36am 1.43mi day
Another breather. This time granite gravel and granite sand.
Again, short. But very welcome.
<![if !vml]>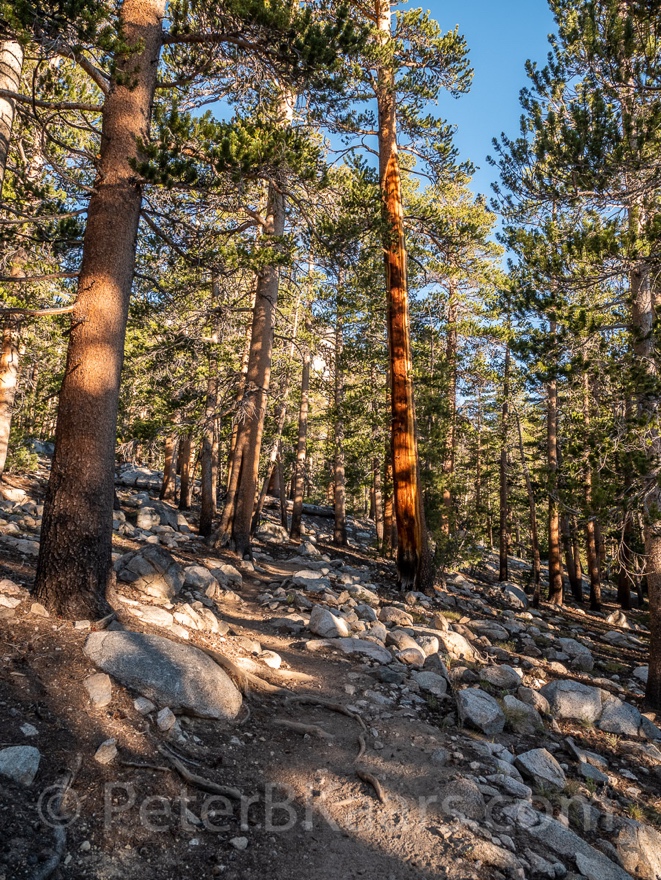 <![endif]>
6:41am
Junction: Grass Lake vs Lamarck Lakes.
The trail is leveling off a bit.
6:45am 1.66mi day
Going up again. Temperature is going up too.
6:49am 1.7mi day
Steepest part yet. Some high steps on granite.
<![if !vml]>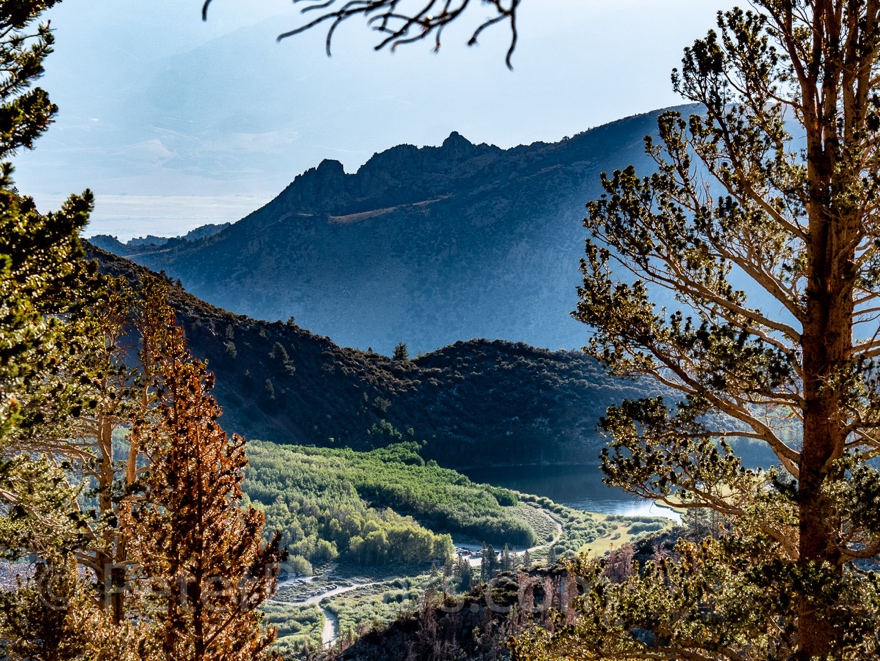 <![endif]>   <![if !vml]>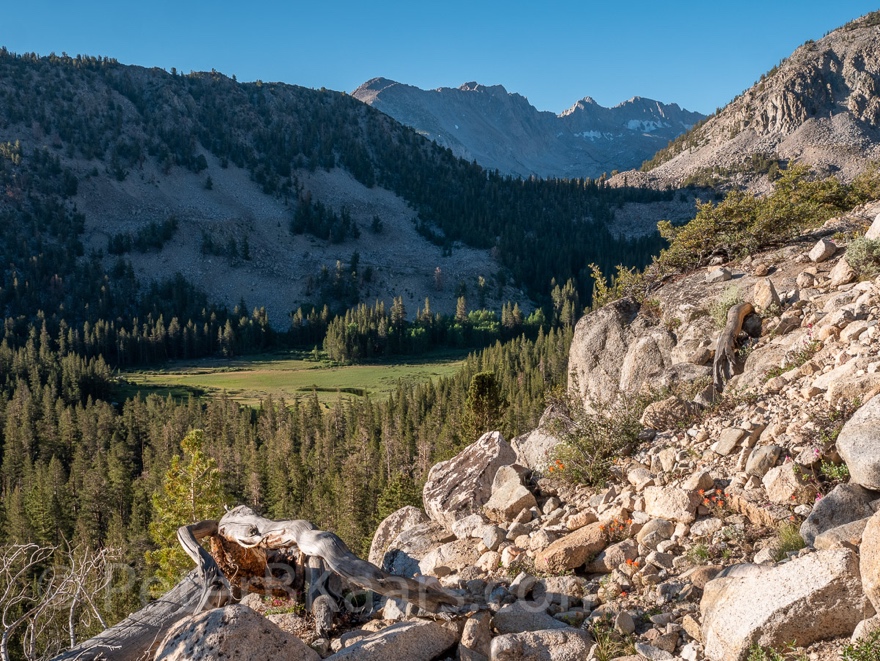 <![endif]>
7:04am 1.86mi day 10,178ft
A breather again. The trail seems to go around the dome I was hiking up. Entering another canyon, westward.
7:07am
Well, apparently not. Switching back into the same wall. Steep up with steps and all.
7:15am
Leveling again for a short while. Yet another wall right in front of me.
7:19am 2.13mi day
Just had another very short breather. Now I literally am facing a wall, at least 50ft high. I think the trail is going over it.
<![if !vml]>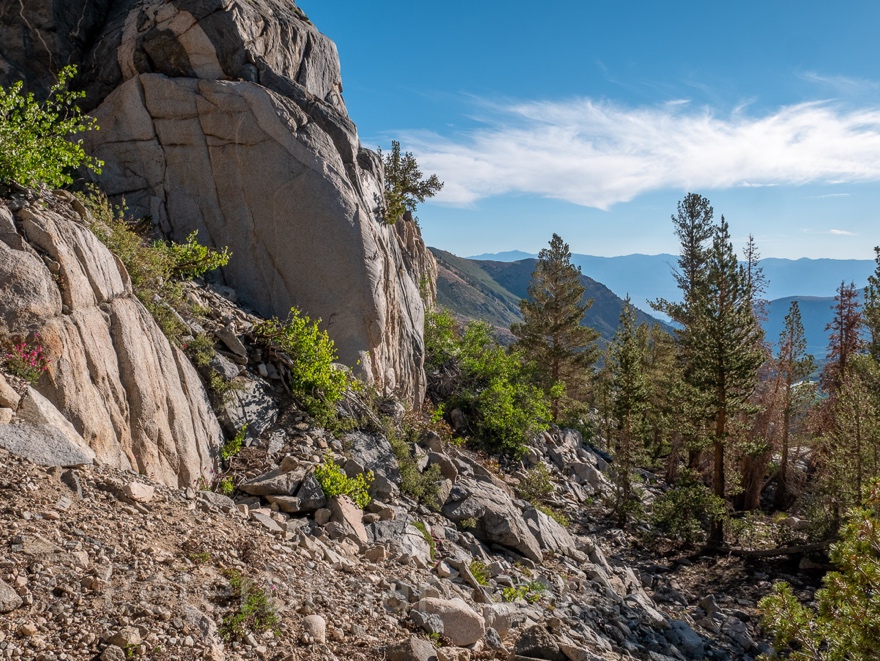 <![endif]>
7:34am 2.36mi day 10,622ft
Now I am really on the other side of the granite wall. However, there is another massive granite formation between me and the canyon to the north. Trail is flat here. This might be the crest before Lower Lamarck Lake.
<![if !vml]>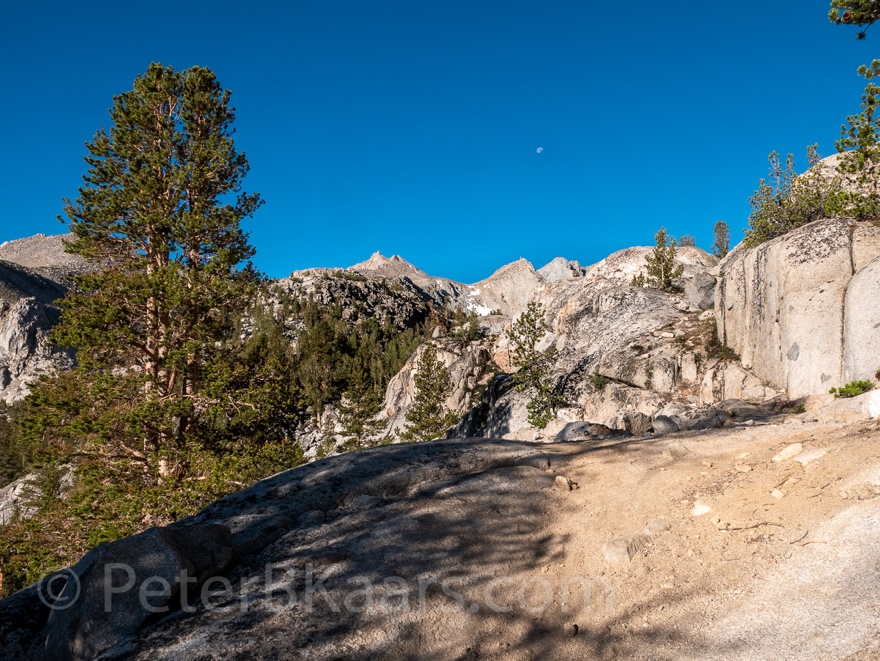 <![endif]>   <![if !vml]>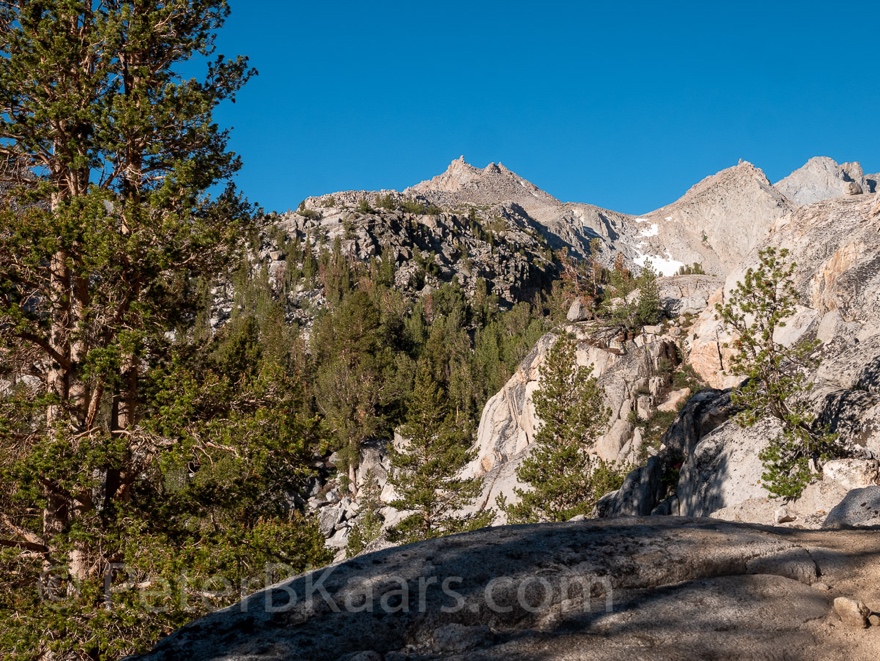 <![endif]>
7:38am
First view of the lake. There is a massive peak just behind it.
7:41am
There is a roaring stream in the outlet creek. There must be quite a waterfall on the other side but I can't see it from the top. Just the walls of its gorge.
Crossing the creek over the rocks is no issue.
7:44am 2.45mi day
Going to the lake is a little detour. Apparently, there is a short trail before the creek. I skipped it.
<![if !vml]>

<![endif]>
7:50am lake
With a bit of trailblazing and boulder hopping I found my own way to the lake.
It's all you except from an alpine lake. Including the jumping fish. The water is clear enough to see the fish swimming around. I imagine they are striped bass because they have two vertical lighter stripes on their body. What do I know?
I don't see any camping opportunities that are far enough from the water.
<![if !vml]>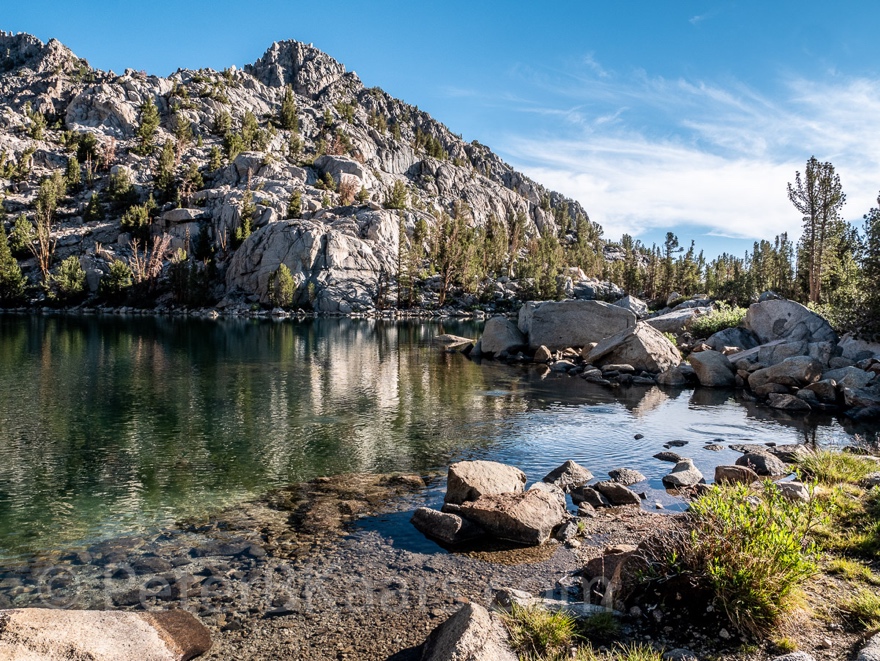 <![endif]>   <![if !vml]>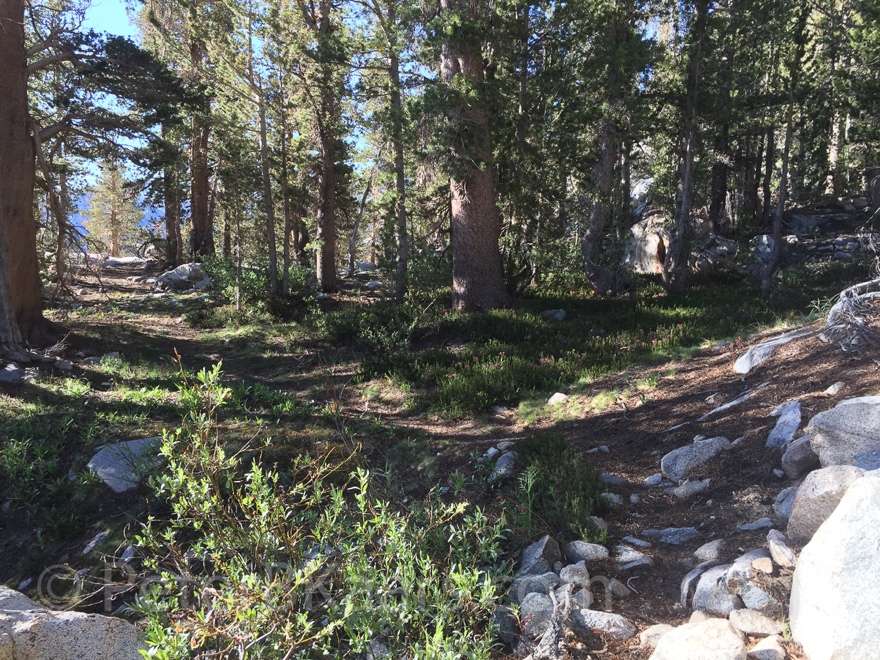 <![endif]>
7:58am 2.46mi day
After the lake the trail immediately resumes going up but then there is a small, forested patch on its south side where I do see opportunity to camp. This area has spectacular views.
Gaia has stopped recording for some reason.
8:06am
At first the trail goes steep up for a short while. But then descends into an almost level path along a stream with large boulders.
<![if !vml]>

<![endif]>
8:10am
Then the path moves to the other side of the stream. While hugging a cliff it gives a spectacular view on the lake and it surrounding granite slopes.
<![if !vml]>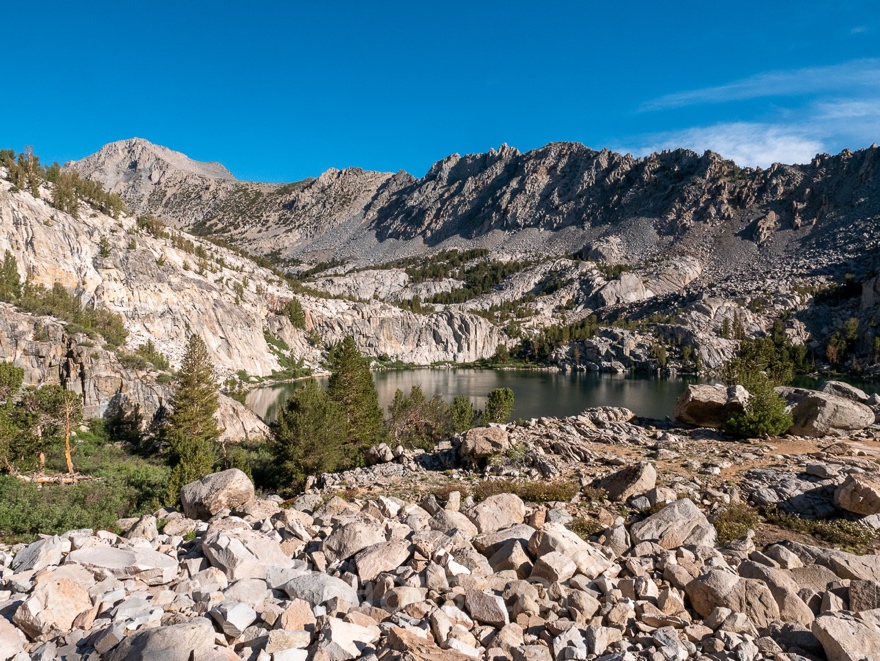 <![endif]>
8:17am
The trail continues very steeply up into the granite wall. Looking back still has a nice view on the lake.
Deep below are the cascades of the creek roaring into the lake.
<![if !vml]>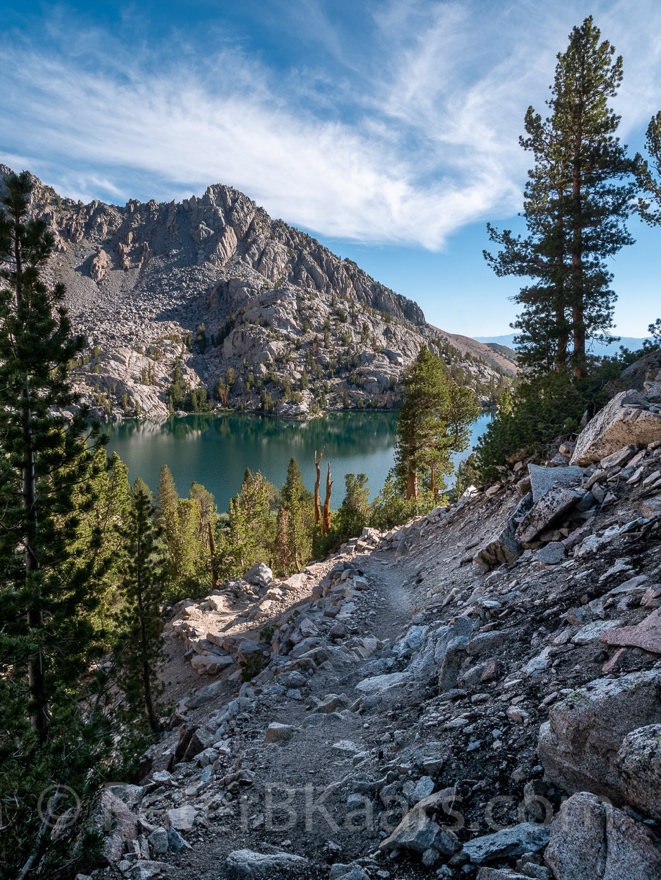 <![endif]>
8:22am
After trail levels off it meets the creek at the same level. Upstream is a good view of a craggy peak in the distance.
There is a big pile of boulders ahead so I assume I will switch to go up again.
<![if !vml]>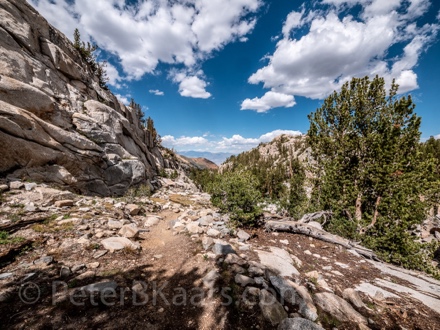 <![endif]> This picture was taken on the way down (3:16pm)
8:22am
Well, I was not the only one making that assertion. There were plenty of footstep going up. However it felt unusually steep, making me look at the map. The trail actually crosses the creek here.
<![if !vml]>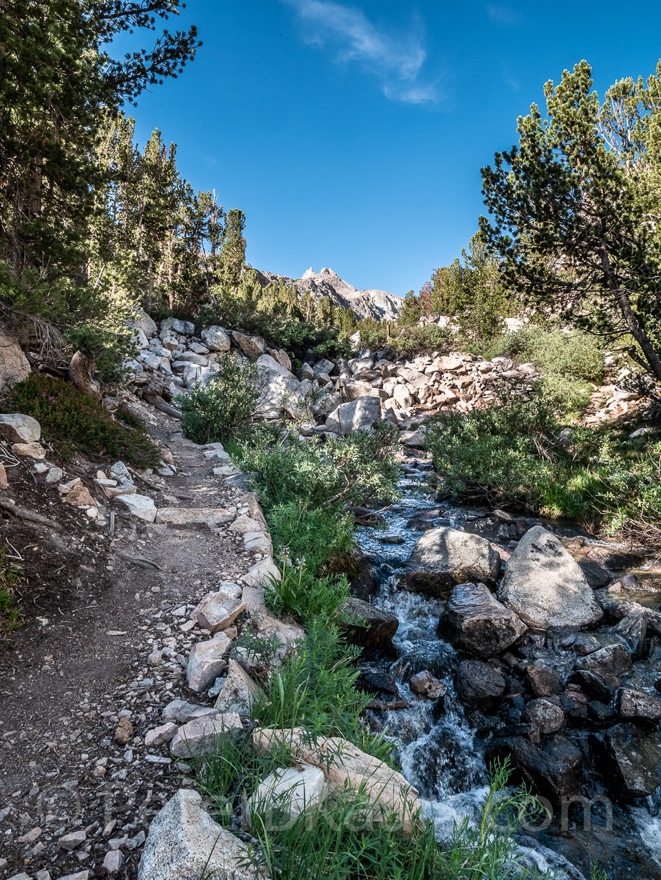 <![endif]>
8:31am
At this point it looks as if there are two well established trails on either side of the creek. However, the GPX I received from Paul appears to be on the other side for way longer. But I cannot see a trail there below the point where I am.
<![if !vml]>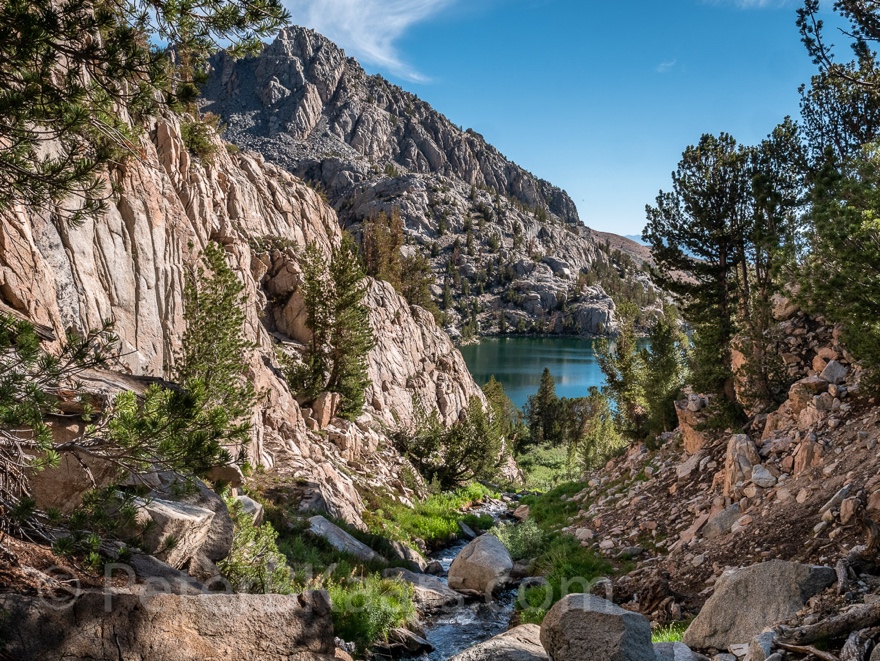 <![endif]>
<![if !vml]>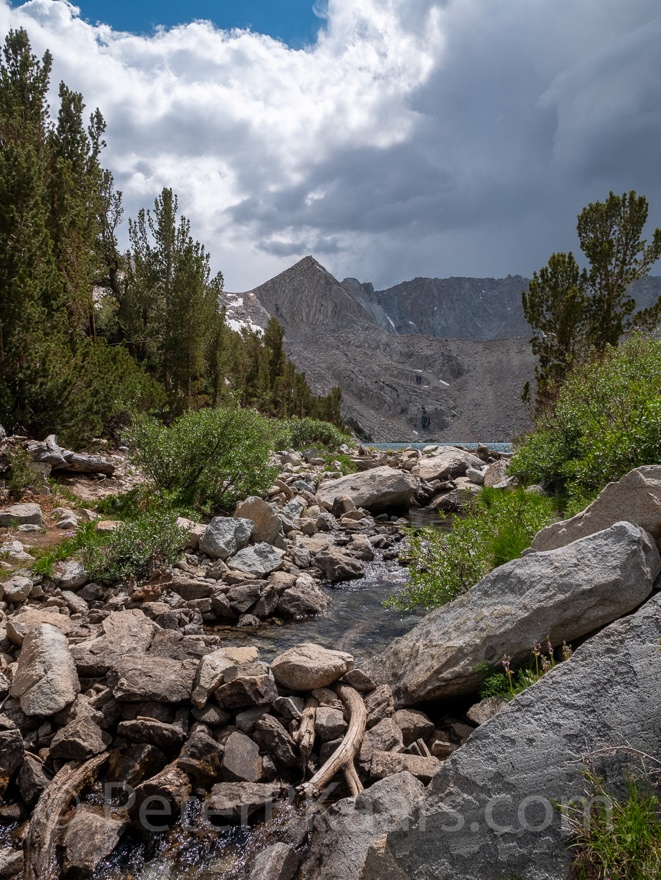 <![endif]>   <![if !vml]>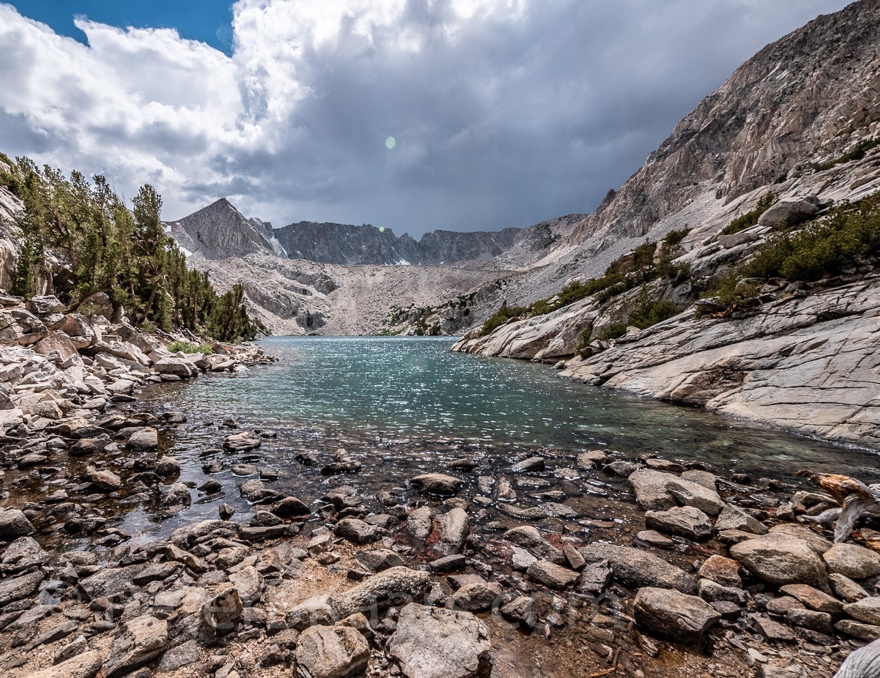 <![endif]> Upper Lamarck Lake detour. These pictures were taken on the way down (3:09pm)
8:41am 2.9mi day 10,829ft Lake or Col
Reached the junction of the detour to the Upper Lamarck Lake. Going left into the direction of the Col. Which requires hopping large boulders across the stream.
8:50am
Now descending. There are many big rocks in the trail.
Looking ahead into a steep wall with several cols.
I can't see Lamarck Col yet because it is behind a granite dome on my right.
8:57am
There is a small patch of forest that may be suitable for camping in an emergency. The ground is very rocky though.
9:05am water
Perfect timing. What appears to be the last stream before the call appears right next to the trail.
Checking on the water situation. Don't want to carry too much in case I go up but certainly don't want to run out.
9:22am oasis
What a lovely oasis. Small babbling stream. Grassy field. Colorful wildflowers. Valley view down. Daunting view up.
It's not suitable for camping because it is too close to water and it's all covered by vulnerable vegetation.
9:30am
Back on the trail
<![if !vml]>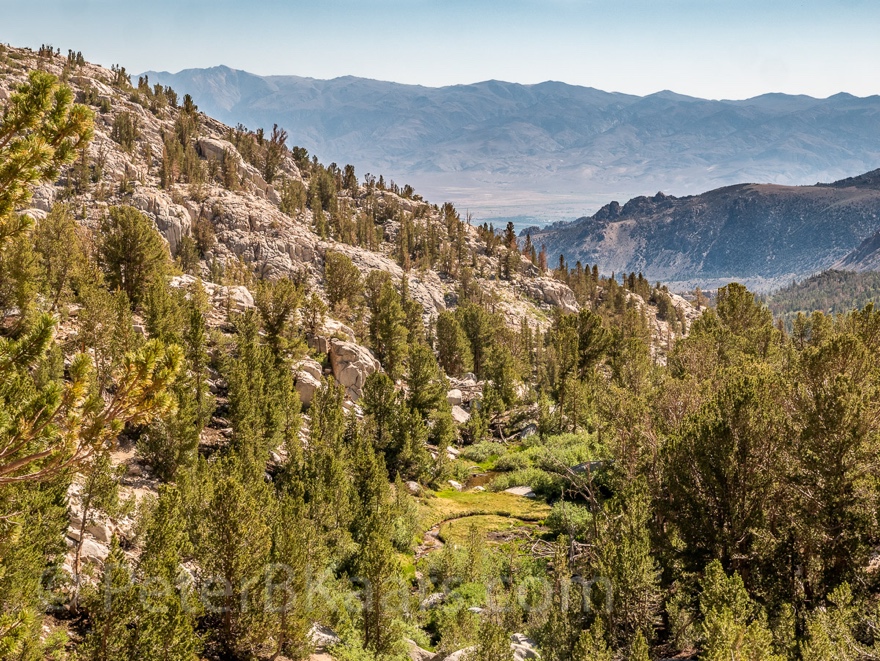 <![endif]>
9:42am
After a short, steep climb the trail ascends into a steep boulder field.
9:55am
Way up, I still have a recognizable trail.
There is even a site that could be used for camping, although small and exposed. The gravelly ground would also be hard on the equipment.
<![if !vml]>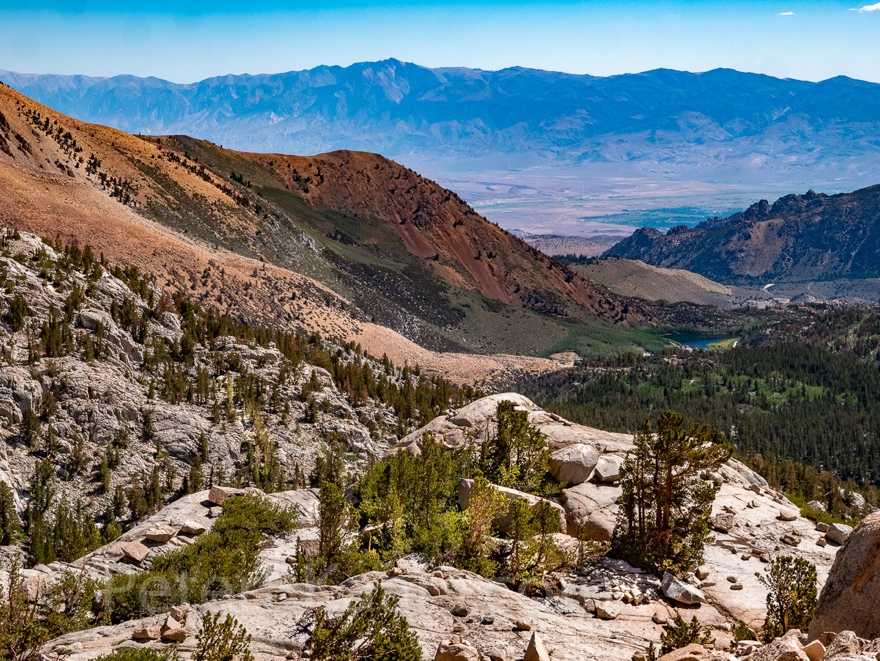 <![endif]>
10:07am 11,194ft 3.45mi day
Wait a minute. A section of the trail has become easy in a stand of conifers.
And views all the way to Bishop and beyond.
<![if !vml]>

<![endif]>
10:18am 11,320ft 3.49mi day
I have the feeling that I am very close to the top. Well at least a top. But I have not seen anything that matches the picture Paul sent me.
10:25am
A peak from the other side peeks through. Almost at the crest, some crest.
10:30am 11,428ft
There is another ridge behind the one I have been working, so far. The narrow trail goes down and then up again. It looks intimidating.
<![if !vml]>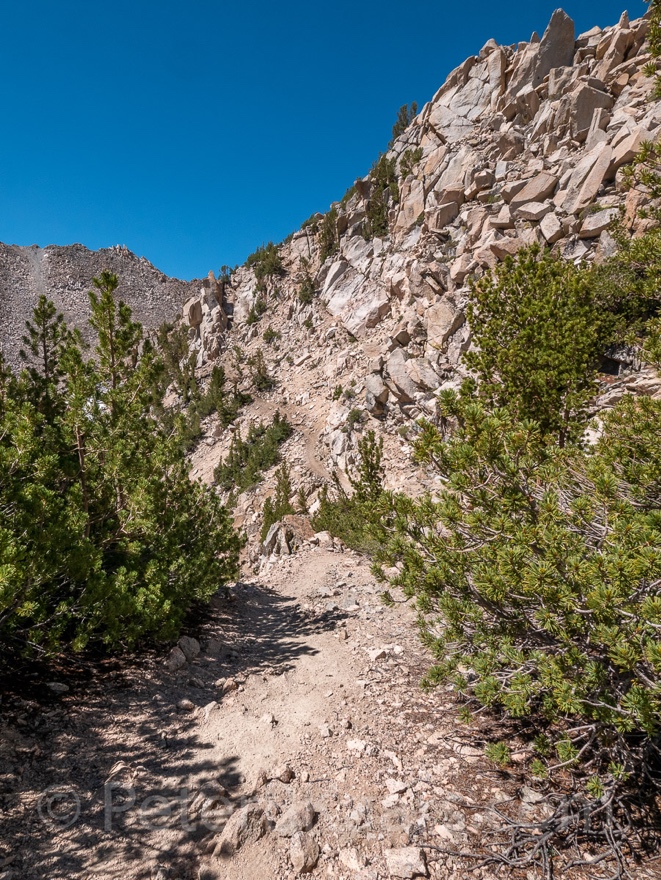 <![endif]>
10.38am
The trail hugs around the peak in the range I just came up. Now it descends into a valley that it shares with the next range.
It's actually a pleasant walk among conifers. Surprised to see so many of those at this altitude.
10:51am
After the valley it looks like the trail is going again up the range I came over. But on its western flank is a slope of boulders that may connect the two ranges.
Still nothing matching the photo.
<![if !vml]>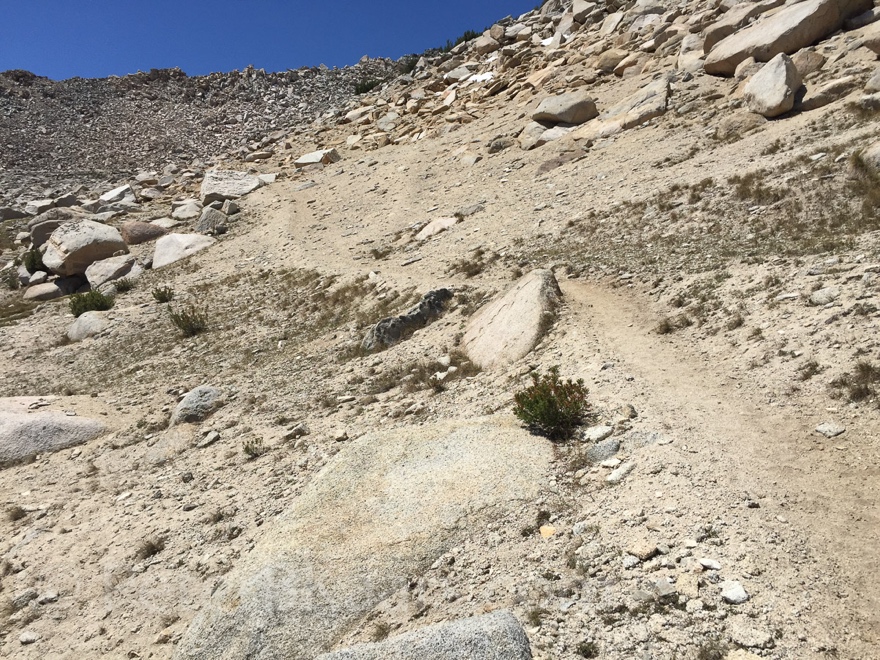 <![endif]>   <![if !vml]>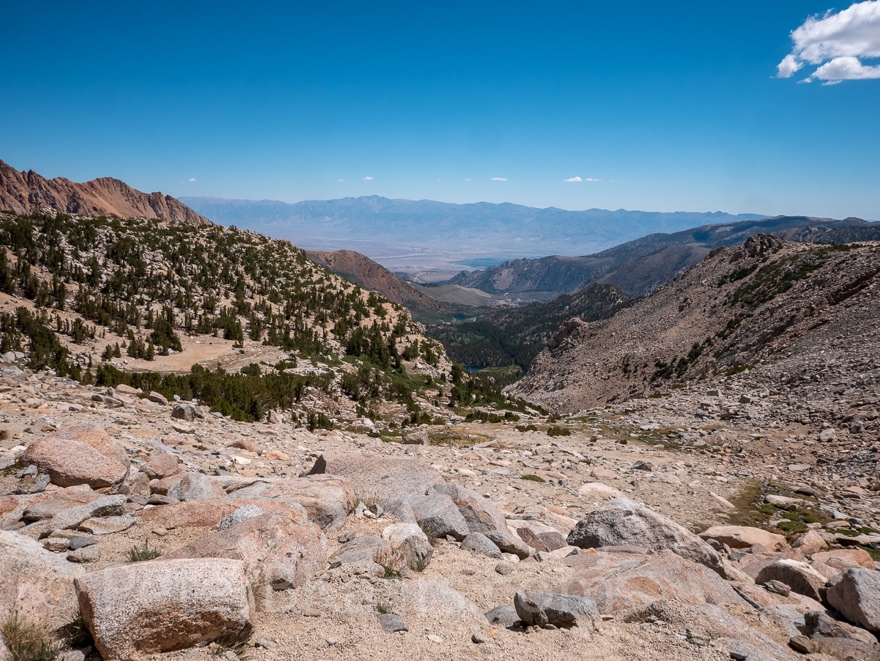 <![endif]>
11:08am
A substantial snow field feeds a nice stream that I could hear through the entire valley but only now get to see. 
<![if !vml]>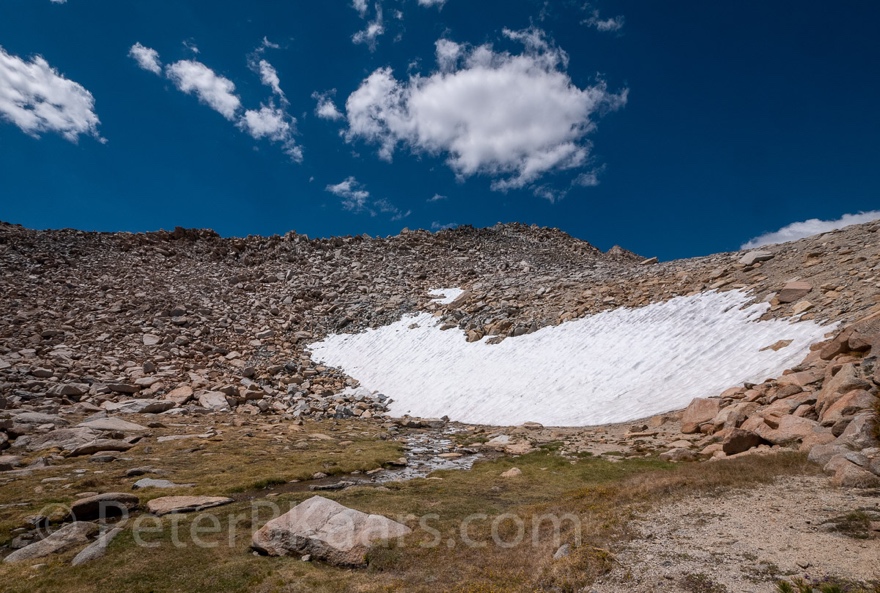 <![endif]>   <![if !vml]>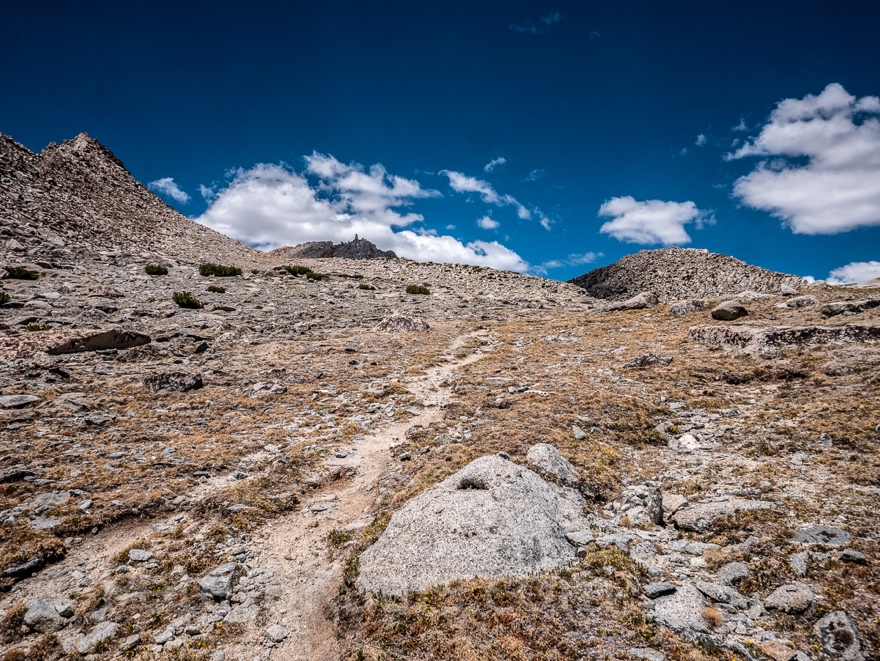 <![endif]>
11:25am 11,912ft
Trail runs over a plateau with loose gravel on the way to another crest. It makes every step feel slow. Although also altitude may be kicking in.
<![if !vml]>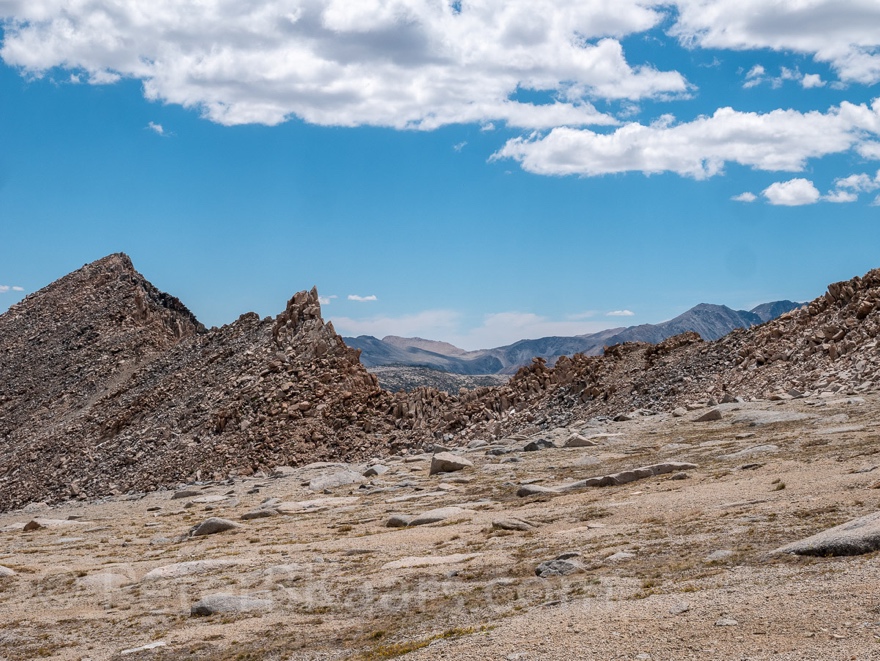 <![endif]>  
<![if !vml]>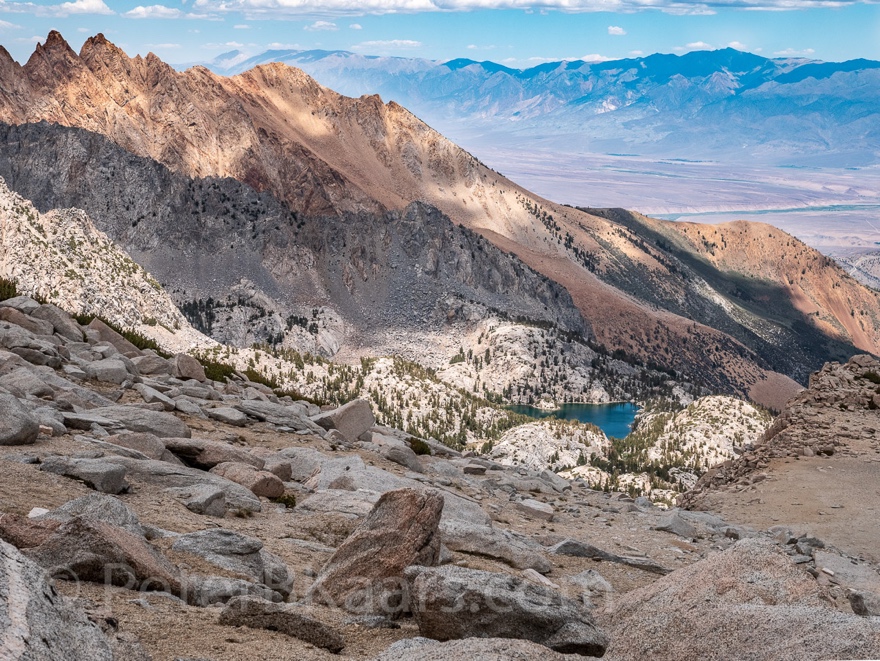 <![endif]> This picture was taken on the way down (1:34pm)
11:46am
After the plateau the trail went slowly but steadily up.
The photo Paul sent me is coming into view. It seems that the height the photo covers is a lot less than I imagined.
<![if !vml]>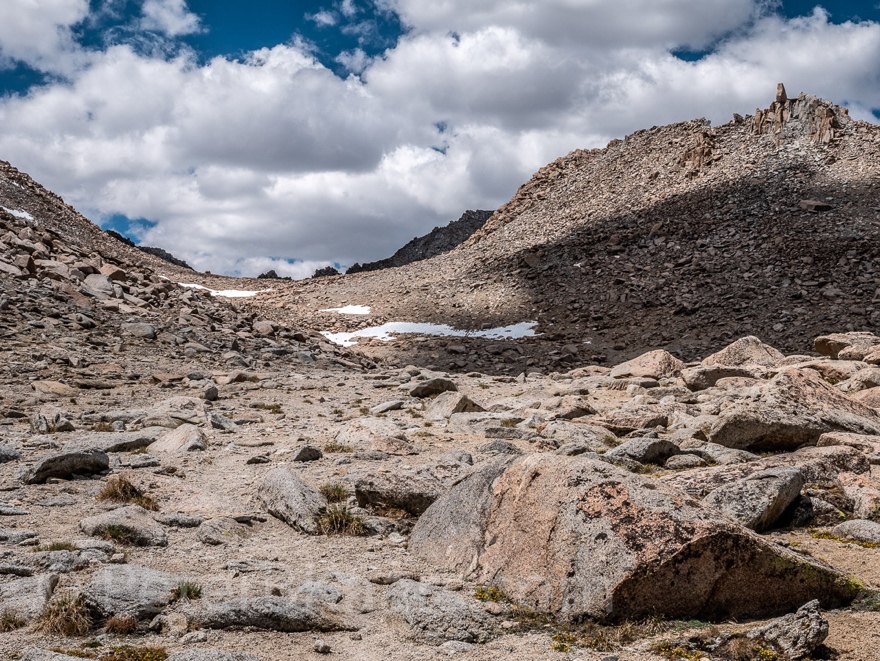 <![endif]>
12:00pm snow field
The trail is heading into a snow-covered area. I'm at a junction where a lot of footsteps go right. I'll follow the footsteps.
<![if !vml]>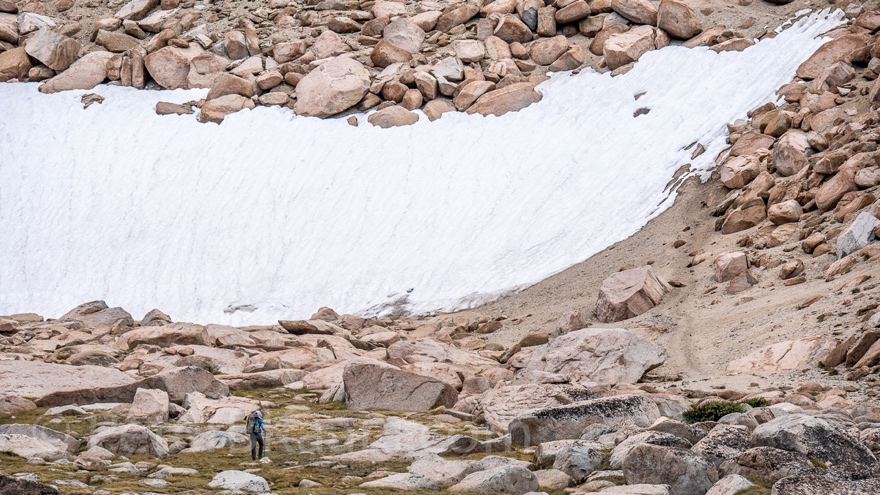 <![endif]> Hiker in front of snow field. This picture was taken on the way down (1:26pm)
  <![if !vml]>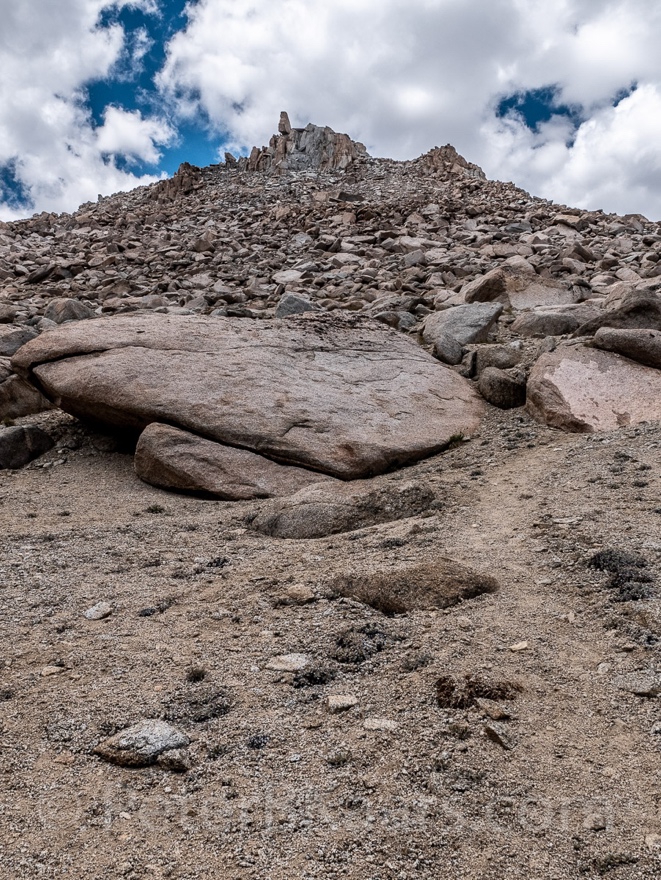 <![endif]>
12:16pm
Made it back to the trail.
Now I'm facing another more substantial patch of snow. At first the trail seems to run along it but then runs straight into a heavy section. I see an opportunity to cross it where it is not so dense.
<![if !vml]>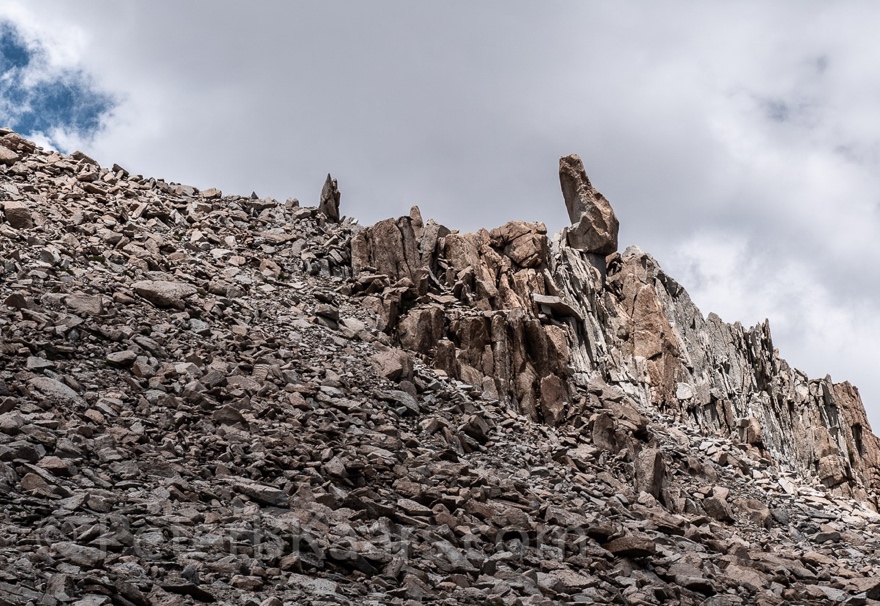 <![endif]>   <![if !vml]>

<![endif]>   <![if !vml]>
<![endif]>   <![if !vml]>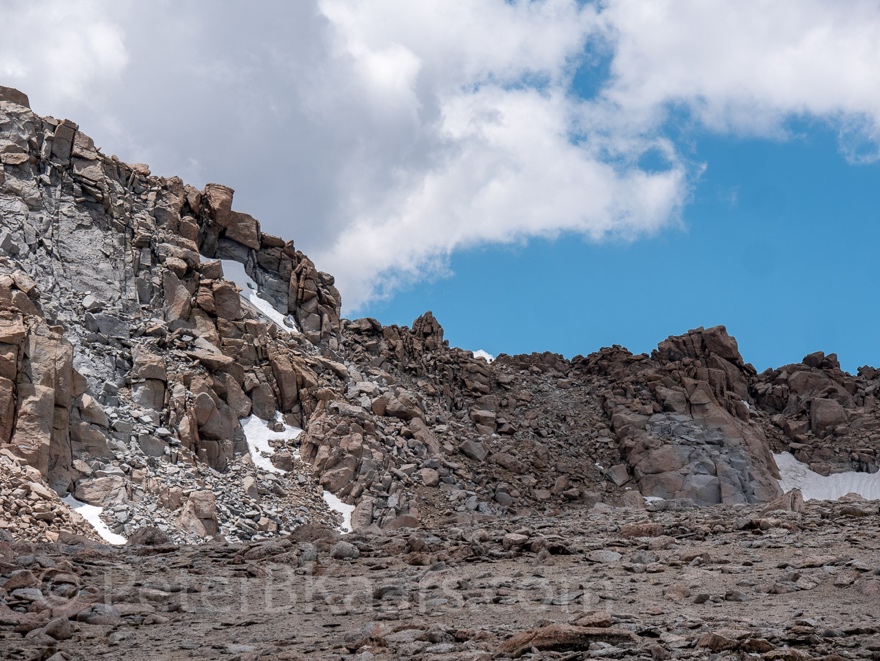 <![endif]>
12:44pm 12,589ft 4.86mi day
It is quite hard to get through the boulder field. There are also many false trails.
I am tantalizingly close to the Col. But I have still some of the boulder field to finish. Then there is another sandy ridge. Beyond that is the cirque in which the Lamarck Col must be.  That looks still like quite a climb. Although I cannot see the bottom.
Time to turn around. I have been on my feet for six hours. It would be ideal if I made it back in four hours.
I'm imagining a large bowl of soup.
The sun is mostly covered by clouds. The wind gusts make it even chilly. I am thinking about Bishop's forecast of 105F, for the day.
<![if !vml]>
<![endif]>   <![if !vml]>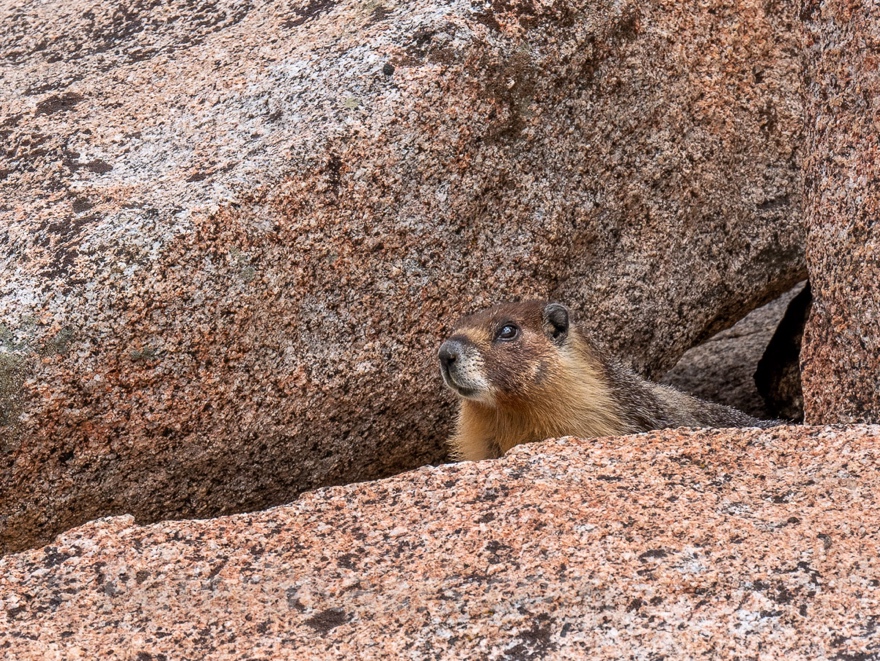 <![endif]>
12:52pm
Just occurred to me. In this boulder field it is possible to find a place to camp. It's exposed and might be cold at night, but it looks doable.
<![if !vml]>
<![endif]>
4:56pm 5.78mi day 9,250ft 71F
Back at the van. Did the downhill in 4:09h.
It is really cruel to build the parking lot 0.7 miles from the trailhead.
<![if !vml]>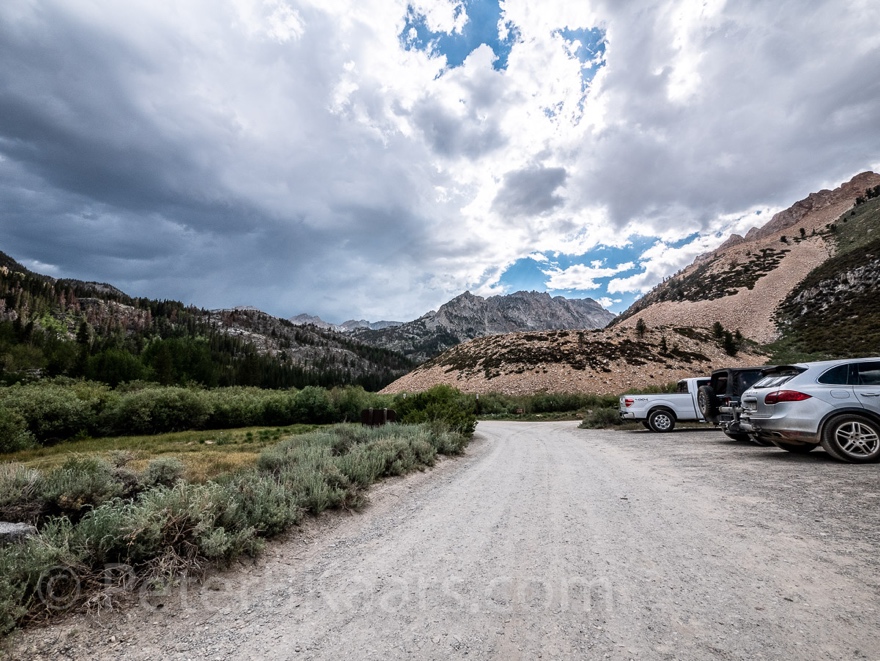 <![endif]>
Encounters
This morning when walking through the campground I saw two people arranging their backpacking gear. I did not talk to them.
While I was hiking up I did not encounter anyone. As I was coming down, I saw two hikers going up. That was quite helpful because I was looking for the trail. I did not speak to them.
<![if !vml]>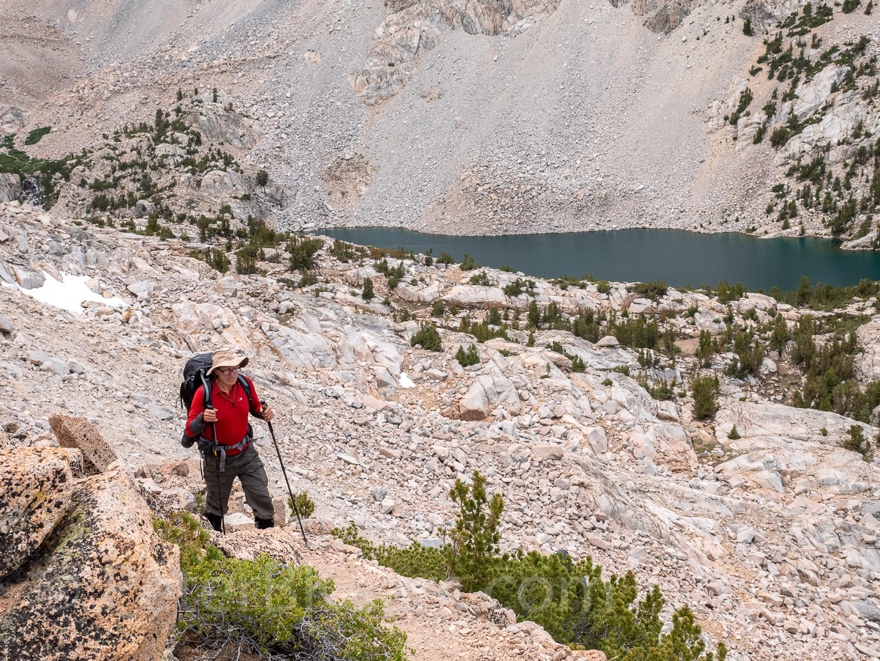 <![endif]>
Once I was back over the first crest two guys came hiking up the switch backs. One had an east European accent. His backpack looked huge. He has done Lamarck Col several times before. It's important not to go to the left (or was it right?) because the descend on the other side would be very steep. He also told me that he will not go over the Col, today. Probably camp just before the Col. His plan was to exit over Piute Pass.
Only minutes later a man and a boy - maybe about 10 years old - came up. His plan was to exit over Bishop Pass on Saturday. He was asking about the water situation.
When I was filtering water at the Lower Lamarck Lake outlet stream, a super fit guy came down. He said he was on the PCT and needed more food. That's a hell of a choice to bail the PCT over Lamarck Col. Yes, somewhat reckless he said. He was planning to hitch hike into town from Sabrina Rd.